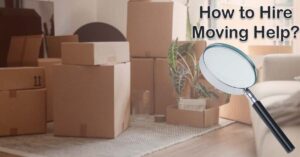 Moving can be an overwhelming and physically difficult task. Whether you're relocating to a new home or office, enlisting professional moving help can save you time, effort & reduce the stress associated with the process.
Here in this guide, we will walk you through the steps of hiring moving help and provide valuable insights to ensure a smooth and successful move.
Assess Your Moving Needs
Before you begin your search for moving assistance, take some time to evaluate your requirements. Consider factors such as:
Distance
Are you moving locally, across the country or internationally?
Size of Move
Will it be a small apartment move or a large house with heavy furniture and delicate items?
Budget
Determine your budget and what services you can afford.
Research Moving Companies
Start by researching moving companies in your area. Look for reputable and experienced movers with positive customer reviews. Pay attention to:
Licensing & Insurance
Ensure the moving company is licensed and insured to protect your belongings during transit.
Services Offered
Check if the company provides packing, loading, unloading & unpacking services.
Experience
Consider how long the company has been in business and their track record.
Obtain Multiple Quotes
Reach out to several moving companies and request detailed quotes.
A reputable company will offer an in-person or virtual survey to assess the scope of your move accurately. Compare the quotes to understand the pricing and services provided.
Check for References
Ask the moving companies for references from previous customers. Contact these references to inquire about their experience with the movers in nj, including punctuality, handling of items and overall satisfaction.
Review Contracts Thoroughly
Once you've chosen a moving company, carefully review the contract before signing. Ensure that all services, prices, and any additional fees are clearly stated. Seek clarification for any ambiguous clauses to avoid surprises later.
Plan Ahead for Special Items
If you have valuable, fragile or specialized items, inform the moving company in advance. They might need to take extra precautions or arrange special packing materials to protect these items during the move.
Prepare for Moving Day
Declutter
Get rid of items you no longer need before packing to reduce the load and save on moving costs.
Label Boxes
Clearly label boxes with their contents and destination rooms for efficient unpacking.
Pack Essentials Separately
Pack a bag with essential items, such as toiletries and a change of clothes, for the first few days in your new place.
Clear Pathways
Ensure hallways and walkways are clear to facilitate the movers work.
Communicate with the Movers
On moving day, communicate with the movers and address any concerns or specific instructions you might have. Stay accessible to answer questions and provide guidance throughout the process.
Check Inventory List
Before the movers leave your new location, review the inventory list to ensure all items have arrived safely. If any damages or losses are noted, discuss them with the moving company promptly.
Tip the Movers (Optional)
If you're satisfied with the service provided by the moving crew, it's customary to show appreciation through a tip. While not mandatory, it is a kind gesture to acknowledge their hard work.
Final Thought
Hiring professional moving help can make a significant difference in the efficiency and ease of your relocation. By assessing your needs, researching moving companies, obtaining quotes and communicating effectively, you can ensure a successful move with minimal stress.
Remember to plan ahead and stay organized during the process and your move to a new state will be smoother than ever.
So, when the time comes to move, don't hesitate to seek the assistance of experienced moving professionals. They'll take care of the heavy lifting, so you can focus on settling into your new home or office.